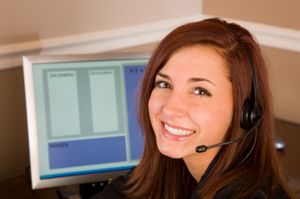 Mele Printing Knows Customer Service
At Mele Printing even when we close our doors and go home at night, we're still just a point and click away. Our Customer Service Center provides clients with 24-hour access to our services. From here, you can request an estimate, place an order, transfer a file, review a proof, or fill out our company report card all from the convenience of your office or home.
Our facility runs 24/7 most weeks, and we are willing to work overtime to meet your rigorous deadlines. Our IT department warehouses up to 13 terra bytes of information, so we are never in danger of slow uploads or file overloads. We want to make the process of doing business with us as easy for you as possible. At Mele Printing we do our homework so you won't have to.
At Mele Printing our Customer Service representatives are second to none. Each representative has extensive knowledge of the print industry and is willing to go that extra mile for our client/partners to ensure their success.
Our client/partner relationships are truly what sets Mele Printing apart from from other printers. It's not always about price at Mele Printing, it's about building relationships that are mutually beneficial.